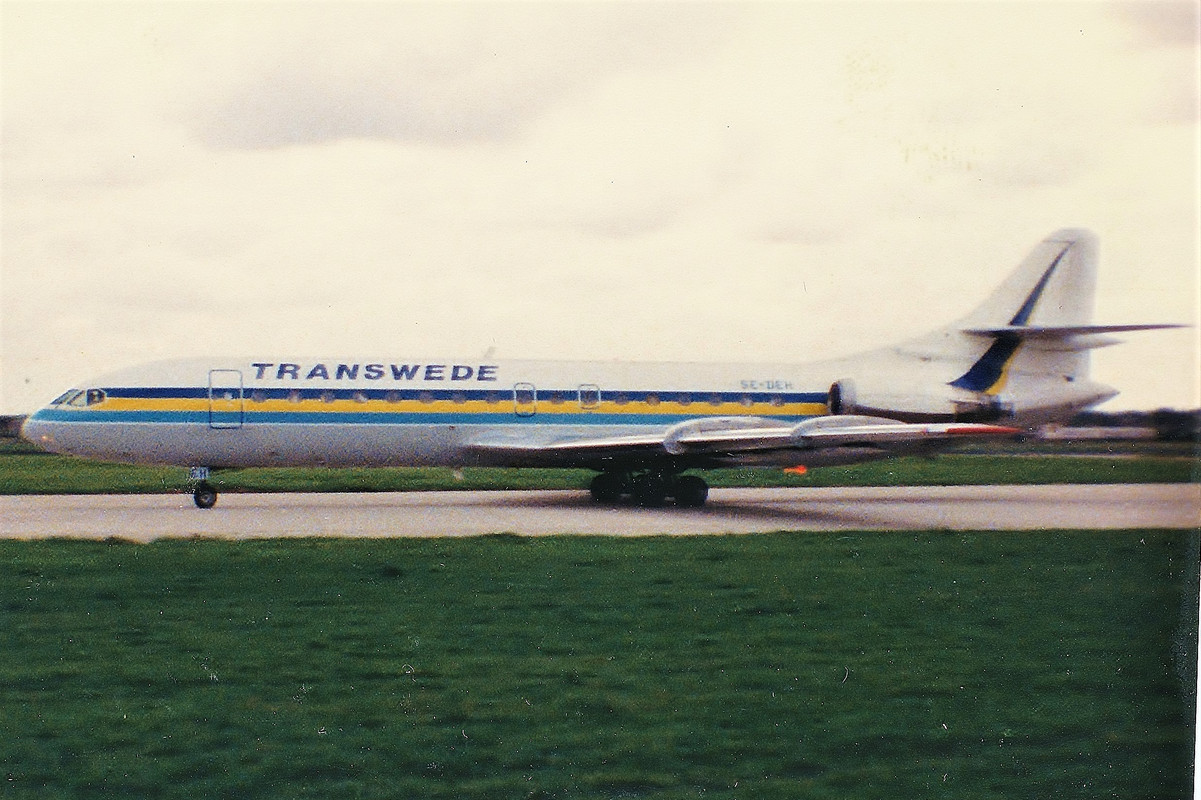 Maastricht Airport september 1986.
Toen Volvo Born in de herfst van 1986 een nieuw model presenteerde vloog Volvo diverse retour vluchten vanuit Scandinavië met Volvo dealers. Diverse Scandinavische luchtvaartmaatschappijen vlogen een maand lang af en aan naar Beek. Voor ons natuurlijk prachtig, daar er ook een aantal smakelijke kisten bijzaten. Wat dacht je van deze Transwede Se-210 Caravelle. Transwede, een jong Zweeds maatschappijtje had drie Caravelles in haar vloot en alledrie hebben de ze eer gehad een bezoek aan beek te brengen in die tijd. Se-210 SE-DEH was de laatste daar de DEB, en de DEC haar al voor waren gegaan. De, uit 1966 stammende Caravelle heeft ook nog een tijdje voor het Turkse Sultan Air gevlogen. Uiteindelijk is de kist in Colombia terecht gekomen waar ze in 1997 de slopershamer tegen het lijf liep...
When Volvo Born presented a new model in the fall of 1986, Volvo flew several return flights from Scandinavia with Volvo dealers. Various Scandinavian airlines flew back and forth to Beek for a month. For us, of course, beautiful, as there were also a number of tasty aircraft. How about this Transwede Se-210 Caravelle. Transwede, a young Swedish company, who had three Caravelles in its fleet and all three had the honor of visiting Beek at that time. SE-210 SE-DEH was the last as the DEB, and the DEC had already preceded it. The Caravelle, build in 1966, also flew for a while for Turkish airliner Sultan Air. Ultimately, the plane ended up in Colombia, where it ran into the demolition hammer in 1997...