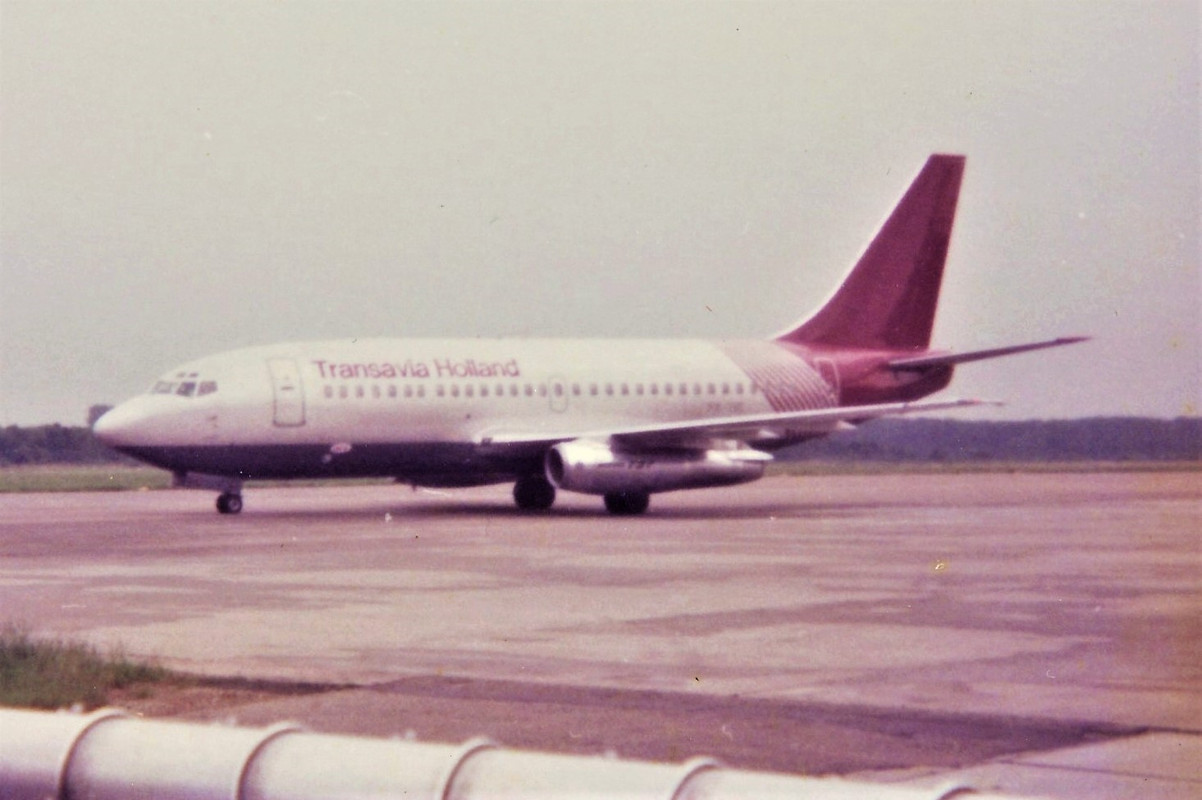 Maastricht Airport Juli 1984.
Vakantietijd! Heerlijk weer op je brommertje naar Beek in de hoop dat er wat leuks kwam. Geen internet, geen flightradar, gewoon op de bonnefooi. Nou, die woensdag in Juli was het best druk! Havenstakingen in Engeland leverde die dag al een Jet Cargo B707 en een TMA B707 op, welke in de weer waren voor British Airways. Maar daar waren we de dag van te voren nog over ingelicht door iemand die dichter bij de luchthaven stond. Maar dat die middag deze Transavia B737-200C PH-TVC zou komen uit Mallorca in de kleuren van haar vorige gebruiker, Markair uit Alaska wist weer niemand. Een aangename verrassing dus.
De TVC werd door Transavia regelmatig op winterlease gezet. Markair had de toen tien jaar oude 737 gehuurd voor de winter 1983/1984. Blijkbaar had Transavia geen tijd na de lease om de kist in haar eigen kleuren te laten spuiten.
En zo hobbelt de PH-TVC weer richting baankop 22 voor haar vlucht naar Palma.
Overigens is deze, inmiddels 46 jaar oude B737 nog steeds vliegende en wel voor het Canadese Nolinor Aviation als C-GLNK!
Maastricht Airport July 1984.
Vacation time! Great! On your moped to Beek in the hope that something nice would come. No internet, no flight radar, just on spec. Well, that Wednesday in July was quite busy! Port strikes in England that day brought us a Jet Cargo 707 and a TMA B707, which were operating for British Airways. But we were informed about this the day before by someone who was closer to the airport. But that that afternoon this Transavia B737-200C PH-TVC would arrive from Mallorca in the colors of its previous user, Markair from Alaska again nobody knew. A pleasant surprise.
The TVC was regularly put on winter lease by Transavia. Markair had rented the then ten-year-old 737 for the winter 1983/1984. Apparently Transavia did not have time after the lease to have the aircraft painted in its own colors.
And so the PH-TVC is on it's way towards runway head 22 for its flight to Palma.
By the way, this 46-year-old B737 is still flying, for the Canadian Nolinor Aviation as C-GLNK!