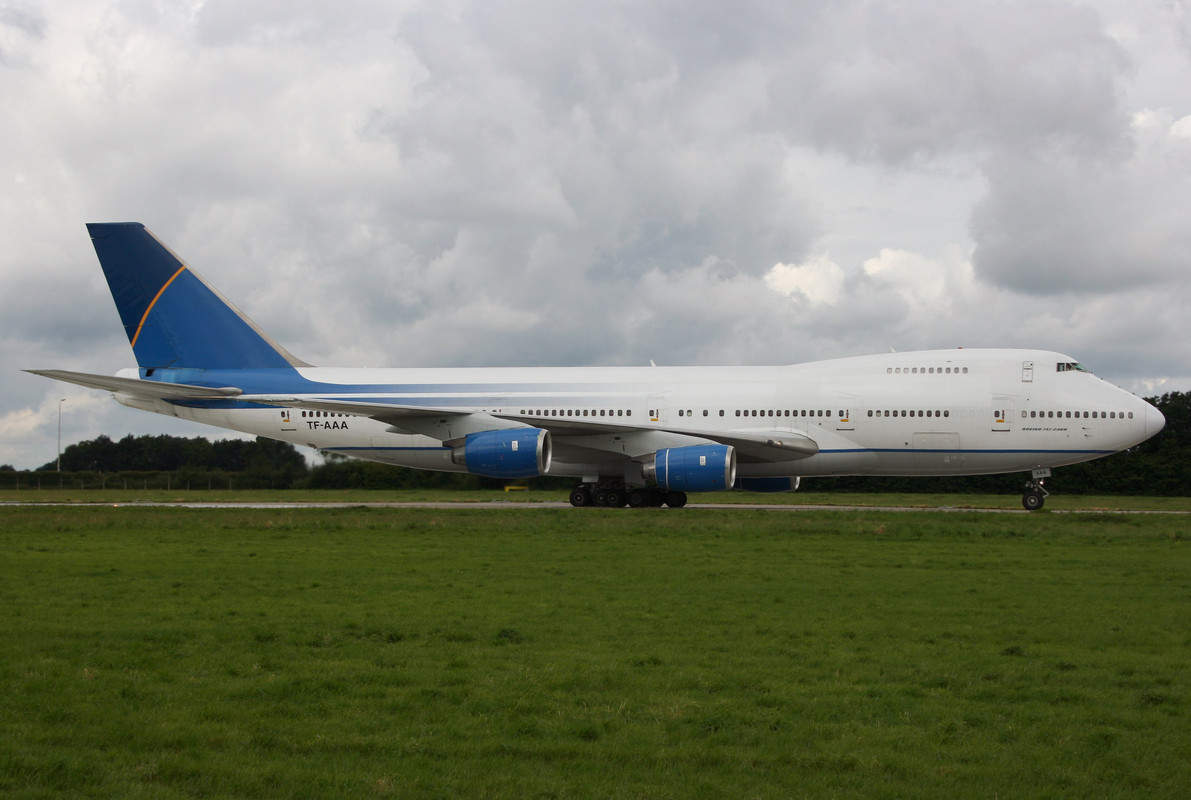 Maastricht 12-07-2008.
Hoe kun je, als vliegtuig, aan je einde komen, terwijl het toch niet het einde is?
Tja, dat is deze Boeing 747-200F hier op de foto overkomen. In de jaren 70 werd deze machine als G-BDXN aan British Airways als passagierskist afgeleverd. In april 1982 nam Malaysia Airways de machine over als 9M-MHJ. In die hoedanigheid kwam ik haar tegen op Frankfurt in 1992. In 1996 liet Malaysia haar ombouwen tot vrachtkist en plaatste de 747 over naar MAS Kargo. Daar bleef de freighter tot 2006 vliegen. Als freighter heb ik de 747 ook op Frankfurt gespot ergens rond de eeuwisseling.
MAS Kargo bestelde 2 747-400 Freighters waarmee de MHJ uitgefaseerd werd. Doch het Amerikaanse Focus Air wilde de machine wel hebben. Ze kreeg N361FC als registratie en vloog twee jaar voor de nieuwbakken Amerikaanse vrachtmaatschappij. Helaas had Focus Air geen lang leven beschoren want in 2008 ging men alweer failliet.
Lang stond de Queen of Cargo niet werkloos want Air Atlanta Icelandic nam haar over en registreerde haar TF-AAA. In die hoedanigheid, en in Focus Air kleuren kwam ik de machine tegen op Beek alwaar ze net haar one-eighty na de landing voltooid heeft op de kop van de 03.
Tot haar pensioen in 2010 bleef ze voor Air Atlanta Icelandic vliegen die haar wit liet spuiten en zo de kist gebruikte in uitleen voor oa MAS Kargo en Saudia Cargo.
Een roemloos einde voor de Queen of the Skies die haar sporen verdiend heeft.
Maar Dive Bahrain kreeg haar in het oog en liet haar naar Bahrein komen. Daar is de machine helemaal kaal gestript. Het toestel is te water gelaten, naar een locatie gesleept middels luchtkussens, en daar tot zinken gebracht alwaar zij dienst zal doen als onderwater object voor Dive Bahrein...
Verdwenen uit het zicht, maar toch nog aanwezig... Nu als Queen of the Seas.
How can you, as an airplane, get to an end when it is not the end?
Well, that happened to this Boeing 747-200F here at the picture. In the 70s this machine was delivered as a G-BDXN to British Airways as a passenger plane. In April 1982 Malaysia Airways took over the machine as 9M-MHJ. Like that I met her at Frankfurt in 1992. In 1996 Malaysia had her converted into a freighter and transferred the 747 to MAS Kargo. The freighter continued to fly there until 2006. As a freighter I also spotted the 747 on Frankfurt somewhere around the turn of the century.
MAS Kargo ordered 2 747-400 Freighters with which the MHJ was phased out. But the American Focus Air wanted the machine. She was registered with N361FC and flew for two years for the brand new American freight company. Unfortunately, Focus Air did not last long because in 2008 they went bankrupt again.
The Queen of Cargo was not out of work for long, because Air Atlanta Icelandic took her over and registered her TF-AAA. It remained still in Focus Air colors. I took this photo at Beek where she just completed her one-eighty after landing on the threshold of the 03.
Until her retirement in 2010 she continued to fly for Air Atlanta Icelandic, who had her painted white and used the aircraft on loan for MAS Kargo and Saudia Cargo, among others.
An inglorious ending for the Queen of the Skies who has earned her spurs.
But Dive Bahrain took her over and sent her to Bahrain. There the machine has been stripped completely. The aircraft has been launched, towed to a location by air cushions, and sunk there where it will serve as an underwater object for Dive Bahrain ...
Gone, but still there ... Now as Queen of the Seas.